Even though we are talking about the total cost of aid in the amount of 113 billion dollars, it would be wrong to call it only "aid to Ukraine."
While the issue of financing aid to Ukraine from the US is being affected by political clashes in Washington over the budget and avoiding a shutdown, the authoritative Center for Strategic and International Studies (CSIS) recalled how this aid to Ukraine was distributed during this time.
Although we are talking about the total amount of 113 billion dollars, most of these funds remained in the USA.
In particular, the US Ministry of Defense, through which the supply of weapons goes, is the first in terms of the budget for aid to Ukraine. The second largest share is the international development agency USAID – 36.6 billion dollars. The US State Department rounds off the top three with $9.9 billion.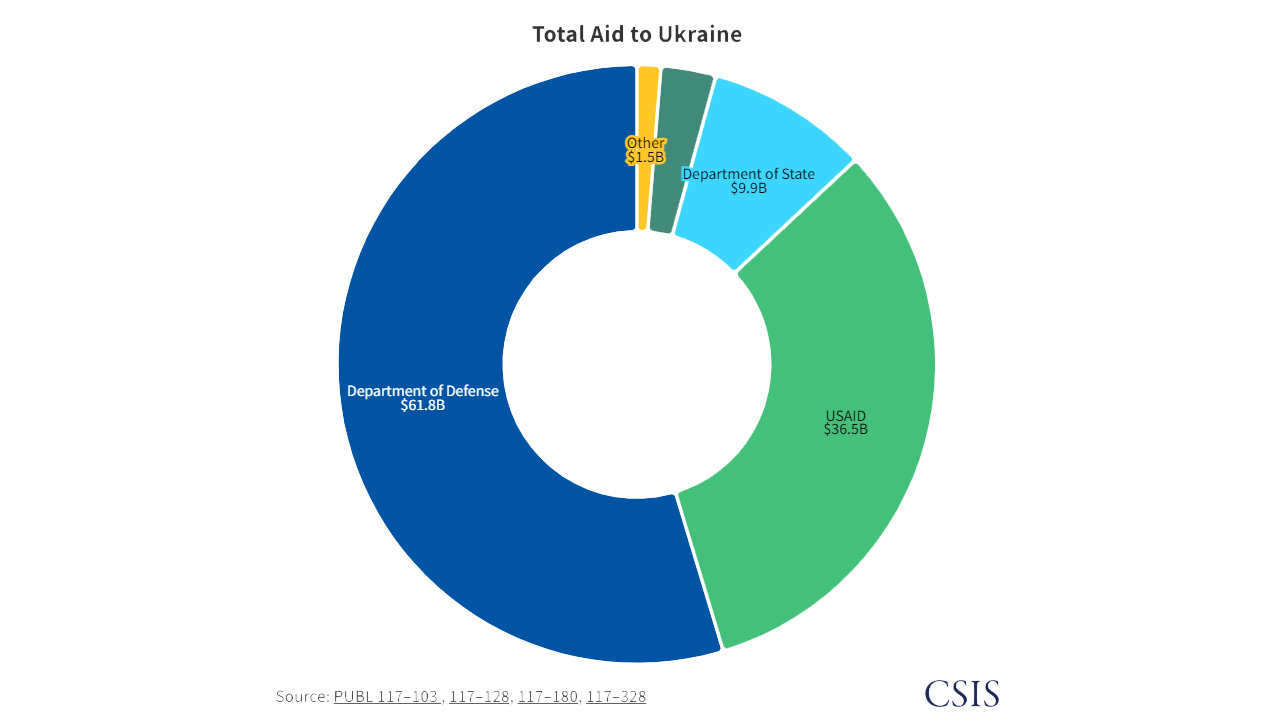 But, as CSIS calculated, out of 113 billion dollars, 68 billion, i.e., about 60% actually remained in the USA. This happened because when it comes to the same transfer of weapons, it should be taken into account that under the USAI program, weapons are ordered from manufacturers; that is, money is invested in its own defense plant, which, having received an additional order, begins to scale up production.
Even when it comes to PDAs, when weapons are transferred from the Ministry of Defense warehouses, it still stimulates the American defense industry because there is a need to replenish stocks. And this also means additional orders for the own defense plant, which further accelerates the production of flywheel.
Moreover, even in the expenditures of the Ministry of Defense for assistance to Ukraine with weapons, 421 million dollars were "sewn" for salaries for the military deployed in Europe. Similar expenses for personnel are also included in the budgets of assistance to Ukraine from each department.
USAID spending of $36.6 billion in direct aid to refugees and international non-profit organizations that care for them. CSIS notes that a "significant" share of these funds goes to help Ukrainian refugees in the United States; the money also remains in the country. At the same time, these costs also included 300 million dollars, which were sent to Moldova to eliminate dependence on Russian energy carriers.

In general, as analyzed by another publication Breaking Defense, only economic aid to Ukraine can be considered "pure" aid in the amount of 27.3 billion dollars. These funds were allocated in order to support the functioning of the state as such, maintaining the level of social assistance, etc. At the same time, funds are usually sent not directly but through the World Bank.
Thus, as Western analysts emphasize, it is more correct to call US spending of $113 billion not "aid to Ukraine" but "US efforts as a result of the war in Ukraine."