Gaza terrorists attack Israeli cities, leaving five wounded, as Israel faces a growing number of killed and wounded.
The Magen David Adom ambulance service reported that it treated four injured people in Ashkelon, including a 75-year-old man in serious condition, two men aged 55 and 30 in moderate condition, and one person with minor injuries. In Ashdod, a woman in her 50s was seriously injured due to a rocket impact.
Warning sirens were heard in several cities, including Jerusalem, Tel Aviv, Ra'anana and Baqa al-Gharbiyye, reaching places that had not experienced such sirens for days. During the attacks, multiple explosions occurred, some due to rocket hits and others from interceptions by the Iron Dome missile defense system. Fortunately, a rocket landed in an open area near Ben Gurion Airport, which continued operating normally.
These rocket attacks came after Israel officially declared a state of war, as the death toll from the massive Hamas attack exceeded 700 people, including at least 73 soldiers and 34 police officers. The number of injured also increased, with more than 2,382 people treated in hospitals, including 22 in critical condition. Uncertainty persisted over the fate of more than a hundred people kidnapped and taken to the Gaza Strip.
Even though Israeli troops regained control of the towns bordering Gaza, fears that terrorists continued to operate on Israeli territory persisted. The Israel Defense Forces announced that they had killed a Palestinian terrorist near the Gaza border, and ongoing clashes between military forces and entrenched terrorists were reported.
Rocket attacks and violence continued, keeping much of the country on alert and tense. Rear Admiral Daniel Hagari reported that the clashes between troops and Palestinian terrorists on Monday morning were "isolated incidents." In the Shaar Hanegev Regional Council, troops killed three terrorists, while in Be'eri, they eliminated one. In Holit and Sufa, five terrorist casualties were recorded, and in Alumim, four.
Hagari noted that there may still be terrorists in the area but stated that no active fighting occurred in any of the cities. This marked a change from the shootings that had persisted throughout Saturday and Sunday when the army gradually recovered from the initial surprise and managed to neutralize and capture numerous attackers after long hours of violence in the cities.
Meanwhile, the Israel Defense Forces continued to carry out airstrikes, targeting targets associated with the Hamas terrorist group. Two days after this group carried out an unprecedented attack in Israel, leaving at least 700 civilians and security personnel dead on the deadliest day in the country's history, a new wave of attacks was unleashed during the night as part of the effort to weaken Hamas' capabilities.
However, the presence of more than 100 Israeli hostages in Gaza could complicate Israel's plans to carry out a large-scale counterattack against Gaza. The spokesman for Hamas's Izz ad-Din al-Qassam Brigades, known as Abu Obeida, announced on Monday that Israeli bombings in the Gaza Strip had led to the deaths of four Israeli hostages. Abu Obeida made this statement on his Telegram channel.
Among the 500 targets attacked overnight included eight Hamas and Palestinian Islamic Jihad command facilities, a building housing Hamas operatives, several high-rise towers housing Hamas assets, a command center used by a senior official of Hamas naval forces, an operational asset located inside a mosque in Jabaliya, an asset used by the terrorist group for intelligence work and three tunnels in the Beit Hanoun area, in northern Gaza.
According to the Hamas-controlled Gaza Strip's Health Ministry, 493 Palestinians have been killed and 2,300 wounded in the enclave since Saturday. The Israel Defense Forces claimed to have killed hundreds of Palestinian terrorists in Israeli territory.
The UN reported that by late yesterday, Israeli airstrikes had destroyed 159 homes in Gaza and seriously damaged 1,210 others. Additionally, the UN agency for Palestinian refugees, UNRWA, reported that a school housing more than 225 people received a direct hit, although it did not specify the origin of the fire.
The United Nations announced Monday that more than 123,000 people have been displaced in the Gaza Strip since the start of the conflict between Palestinian terrorists and Israel.
In a shocking assault, Hamas gunmen stormed 22 towns in southern Israel on Saturday morning, including towns and small communities located 15 miles from the Gaza border. In some places, they prowled for hours, attacking civilians and soldiers, while the completely unprepared Israeli army scrambled to organize a response. Simultaneously, thousands of rockets were fired at cities in southern and central Israel.
The ZAKA group, which is responsible for the recovery of human remains in terrorist attacks and other disasters, announced Sunday night that at least 260 Israelis, mostly young people, were gunned down by Hamas gunmen who invaded a festival of outdoor music in southern Israel.
Social media was flooded with chilling videos of men, women and children being transported to the Gaza Strip, many of them showing signs of mistreatment. Videos were also shared of dead Israelis, including soldiers, whose bodies were displayed in the streets.
The Government Press Office, under the Prime Minister's Office, stated that the number of hostages in Gaza exceeded one hundred. Both Hamas and Islamic Jihad declared on Sunday night that they were holding around 130 Israeli hostages, including senior army officers.
Hamas announced on Monday its intention to "release all Palestinian prisoners" in Israel and end Israeli "provocations" in Judea Samaria and Jerusalem, especially at the Al Aqsa mosque.
Abdel-Latif al-Qanoua, speaking by phone to The Associated Press, said Hamas terrorists were still fighting Israeli forces and had captured more Israelis early Monday. He stressed that this fight was linked to the release of all Palestinian prisoners and the cessation of the activities of the Israeli government in Jerusalem, which he described as "fascist."
On Monday morning, Hagari stated that fighting occurred in and around Kfar Aza, Beeri, Nirim, Shaar Hanegev, Nir Oz, and Alumim. He reported that overnight, about 70 terrorists infiltrated Be'eri, most of whom died in clashes with IDF troops. However, some were still hiding in houses on the kibbutz. In Kfar Aza, seven terrorists were identified in the vicinity of the city. The tunnel entrance was also discovered near the kibbutz, marking the first discovery of a tunnel in the current conflict, despite previous investments by Israel in an advanced underground security system.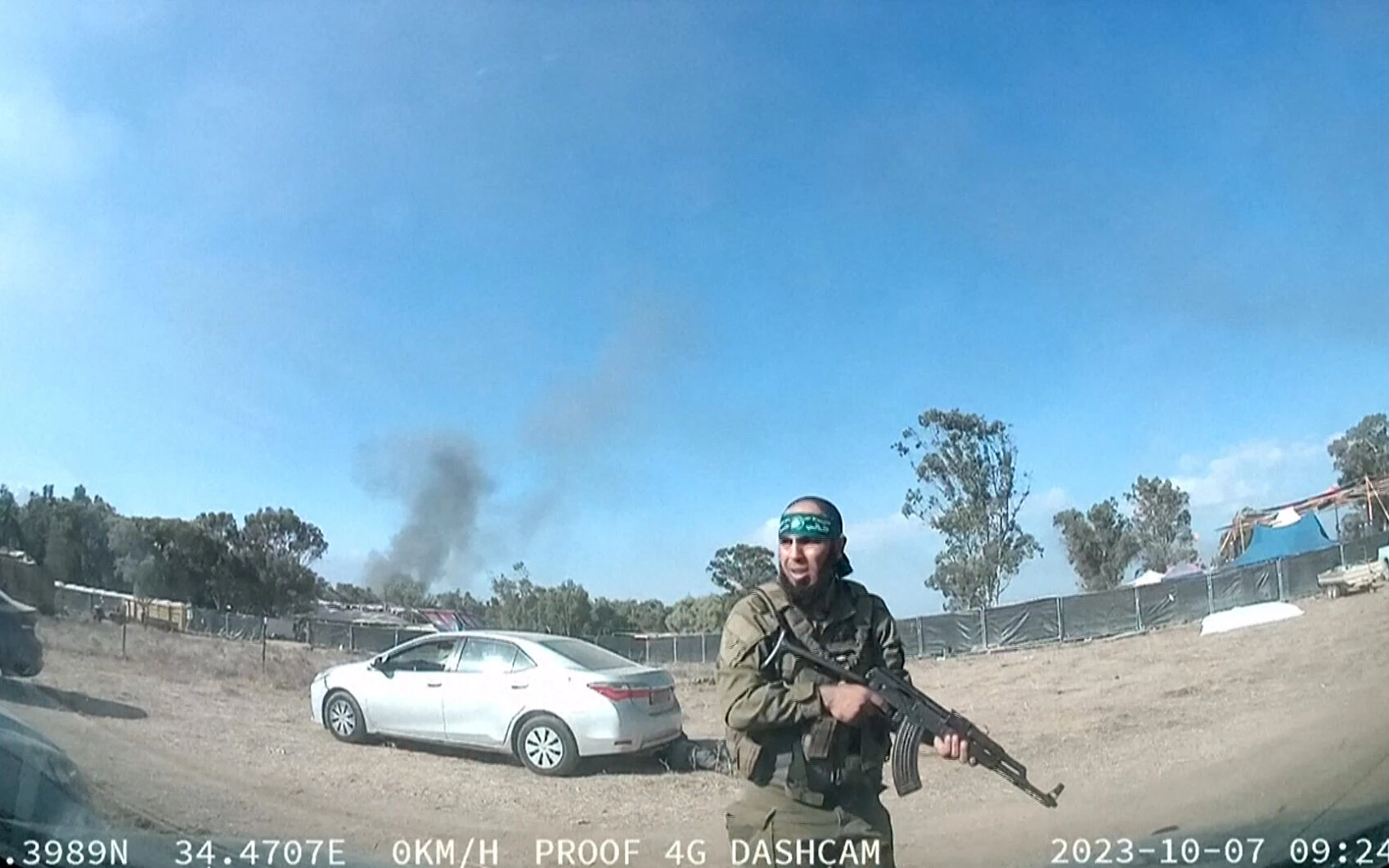 The ongoing fighting situation and lack of accurate information compounded concerns about the multiple failures that allowed Gaza terrorists to carry out their onslaught seemingly unhindered. Relatives of missing, kidnapped or murdered people expressed their sense of abandonment by the authorities, and many stated that they had not yet contacted them.
The feeling of chaotic and poor management of the disaster spread on Saturday, when numerous besieged residents in invaded communities made desperate phone calls to their loved ones and the authorities, begging for a rescue that in many cases did not arrive until after long hours, in some cases too late.
The scenes of chaos and suffering and the lack of control of the situation shocked and outraged the nation, generating demands for answers about the numerous failures in intelligence, deployment and policy that allowed this national catastrophe.
A day after announcing that Israel would carry out a broad retaliation campaign in Gaza, Prime Minister Benjamin Netanyahu remained largely silent on Sunday and Monday. His office distributed photos, but he had not made any public statement since Saturday night when he gave a brief televised speech.